[themify_box style="orange announcement"]Were you accused of taking part in a bank robbery? Houston federal criminal law attorneys Amber Spurlock (former federal prosecutor) & Tad Nelson (Board Certified® in Criminal Law) are available for a 100% confidential consultation about your case. Contact us at 281-280-0100 today. [/themify_box]
Understanding Bank Robbery Offenses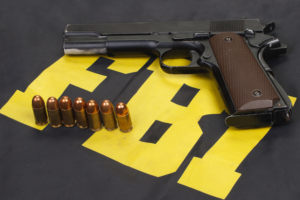 A person facing bank robbery related criminal charges will be prosecuted by the Department of Justice (DOJ) and likely arrested by the FBI. Any form of bank robbery is a federal offense per 18 U.S.C. Section 2113(a).
In order to charge (and successfully prosecute) a person for bank robbery, the United States' Attorney's Office must prove that a person (or persons) attempted to, or successfully stole money, property, or other valuables from a banking or other federally insured institution.
Robberies of retail banks, commercial banks, federal vaults, ATMs, credit unions, and savings & loans, online or in person, is a federal offense. However, stealing money or valuable items from a bank by using forms of fraud or larceny isn't considered bank robbery. These offenses are prosecuted under differing criminal classifications and federal statutes.
RELATED NEWS: Houston Leads the Nation in Armed Takeover of Banks
Aggravating Circumstances & Federal Enhancements
The use of a dangerous weapon isn't required to rob a bank. There are numbers of bank robberies that occur without the exhibition of weapon. When a weapon is used during the course of a bank robbery the stakes are raised for the defendant. The defendant will face a harsher sentence if their conviction carries aggravating factors.
The enhancement also applies if the defendant's accomplice, if any, exhibited a weapon during the course of the crime. The courts feel that if the defendant either knew about the use of a weapon, or should have known, an enhancement is justified.
There are instances where threats of bodily harm were made by a co-defendant that didn't trigger enhancements for the defendant.
Verbal threats of death, or even physical gestures indicative of a death threat, will trigger an enhancement.
Criminal Penalties for Bank Robbery
The criminal penalties for bank robbery are stiff. Serious penalties will also apply to persons who accepted property stolen from a federally insured institution.
A person who enters a bank, or a building housing a bank, for the purpose of robbery can face a 20 year sentence.
If the bank robbery has aggravating circumstances, a 25 year sentence may apply.
Receiving, concealing, or accepting stolen bank property could bring a fine, and a 10 prison sentence.
If a person was killed or kidnapped during the ordeal, a life sentence or death penalty may apply.
Federal Sentencing Guidelines are a major influence on the sentencing of the convicted. This is in addition to other factors such as those as outlined below.
The use of a weapon.
The amount of money stolen.
The nature & frequency of the offense.
The previous criminal history of the defendant.
The occurrence of aggravating factors during the crime.

SPECIAL NOTE: The statute of limitations for prosecuting a bank robbery is 5 years.
Need Help? Schedule A Case Review
Houston federal criminal lawyers Tad Nelson & Amber Spurlock are ready to meet with you to discuss your options. Even if you haven't been formally charged, but believe you may be under investigation, you'll need help.
With our legal guidance you'll stand a chance at avoiding decades in a federal penitentiary. Our legal team consists of Board Certified® criminal lawyer Tad Nelson & former federal prosecutor Amber Renee Spurlock. Both attorneys of our legal are lawyer-scientists, affording them a structured analytical viewpoint when it comes to evidence.
Don't hesitate to contact us. Our phone number is 281-280-0100.
Houston, TX Bank Robbery Lawyers
Save
Save