Conspiracy To Commit a Drug Offense
Drug offenses at the federal level, with the added component of a conspiratorial scheme, will result in extremely punitive consequences for the convicted. If you have a hearing scheduled at the United States District Courthouse on Rusk St, and have yet to secure legal representation, contact us immediately.
Attorneys Amber Spurlock & Tad Nelson are admitted into federal court, and are interested in talking with you if you're facing federal charges. Our legal team is decorated with professional credentials related to criminal law, remains on the cutting edge of forensic science, and takes pride in obtaining favorable results for our clients.
If you need us, call us at 281-280-0100.
Federal Drug Conspiracy Charges Explained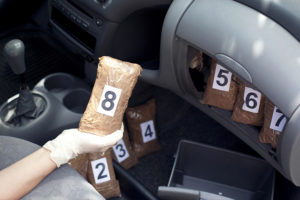 Possession of cocaine, marijuana, heroin, crack, meth, and other controlled substances are usually prosecuted at the state level, with a few exceptions. When an ongoing criminal operation is suspected, or if the government suspects a criminal enterprise with multiple parties involved, the US Attorney's Office will get involved.
Considering the legal definition of a criminal conspiracy, people who aren't directly involved with the drug offense, or was naive about their involvement, become criminals. Unknowingly aiding a criminal conspiracy is a crime. If you were accused of involvement in a drug conspiracy contact a federal defense lawyer A.S.A.P.
A person can be charged with a drug conspiracy offense regardless of whether the crime was carried out or not. Simply conspiring to traffic in narcotics is a federal offense.
If you planned to pick up 50 kilos of cocaine from an international contact, or to transport those illegal narcotics across state lines, and the deal falls through, you've still committed a federal offense. In other words, failure to commit the crime doesn't nullify it. Also worth noting; prosecutors only need to prove that one of the conspirators took an action to commit the crime in order to obtain a conviction.
Penalties for Drug Conspiracy Offenses
Drug offenses prosecuted at the federal level, with the conspiracy component, carry more punitive consequences than if prosecuted at the state level. Federal felony drug conspiracy convictions carry a fine of up to $250,000.00 and a prison term of up to 5 years. The fine increases to $500,000.00 for a criminal organization. Additional charges for crimes complimentary to the conspiracy will likely be added to the sentence. This can result in prison sentencing ranging from 10's to 100's of years.
The federal court considers the age, criminal history, and other elements when determining a sentence. Asset forfeiture is another penalty that may be suffered by the convicted. If the federal government feels that the defendant accumulated gains, property, and other valuables as a result of a criminal enterprise, those assets will be seized.
A Federal Defense Lawyer Is Your Best Option
When you're the target of the United States the odds are against you. You'll face an opponent with unlimited resources. The situation is dire. Attorney Amber R. Spurlock is a former federal prosecutor, former JAG officer, and a former Air Force Captain. She knows how the government works and has a unique set of skills when it comes to fighting federal charges. Attorney Tad A. Nelson is a 25+ year "Board Certified" Texas criminal lawyer who fights to win.
The goal of our federal criminal defense team is to defend you. That's what we'll do. We have the knowledge, skills, and experience to craft an effective defense strategy for you, and we know how to implement it.
To schedule a case review at no charge, contact our law office by calling 281-280-0100. You can also contact us by sending us a message about your federal case by using the contact form.
Conspiracy To Commit a Drug Offense