If you're a service member that's facing criminal allegations you deserve the best legal representation you can get. Former Judge Advocate General (JAG) & United States Air Force Captain Amber Spurlock is now a federal criminal defense lawyer, with her experience stemming from her role as a military prosecutor.
If you're in need of a consultation with Atty. Amber R. Spurlock or Board Certified® Criminal Lawyer Tad Nelson, contact our office at 281-280-0100.
Experienced, Aggressive Defense for Service Members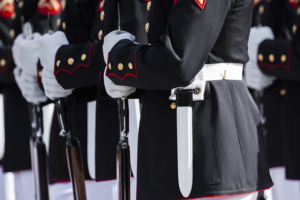 You've put your life on the line to serve our country. You deserve a legal team that's dedicated to protecting your rights, and your freedom as your advocate.
Whether it's a military criminal charge, or a criminal case in the civilian system, Attorney Amber Renee Spurlock is on your side. As a former Air Force Captain & and Judge Advocate General, we know the importance of protecting your rank, name, and your rights.
Whether you served as a Soldier, Marine, Coast Guardsman, Airman, or Sailor, you can rest assured that you have one the best qualified lawyers on your side.
Military Criminal Defense Practice Areas
Adultery
Aggravated Sexual Assault
Article 81 (Conspiracy)
Article 120 (Rape)
Article 120b (Sexual Assault of a Child)
Article 120c (Other Sexual Misconduct)
Aggravated Sexual Assault
Attempted Murder
Drug Offenses
Manslaughter
Obstruction of Justice
Pandering
Rape
Sodomy
Solicitation
General Court Martial
Special Court Martial
Summary Court Martial
General Officer Representation
Combat Environment Representation
Article 15 (UCMJ)
The Law Offices of Tad Nelson & Associates doesn't take shortcuts when serving veterans faced with legal challenges. We're ready to represent you at Court Martial hearings, defend your rights during investigations, Article 15 hearings, and Separation Board hearings while keenly focused of claiming victory for you.
Standards of the Uniform Code of Military Justice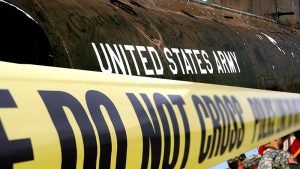 When a person is enlisted to serve our nation as a member of the U.S. Armed Forces they're expected to represent excellence, liberty, justice and service.
Whether the enlisted man or woman serves in the United States Army, United States Marine Corps, United States Navy, United States Air Force, or the United States Coast Guard, they're expected and charged with adhering to the standards of excellence outlined by the Uniform Code of Military Justice (UCMJ).
When a service member is found to have acted contrary to this standard, and Article 15 hearing may be required. Although not the worst of circumstances, an Article 15 offense (similar to civilian misdemeanors) can lead to the defendant risking Administrative Separation (discharge) or being dishonorable discharged.
Our Military Defense Lawyers Are Ready to Defend
If you've been thrust into the stressful reality of a pending Court Martial former federal prosecutor Amber R. Spurlock is ready to sit down and discuss the situation with you. As a former service member, Atty. Spurlock understands the gravity of the situation, and the potential consequences that may follow a conviction.
We'll fight for you.
To contact our law office, use the contact form below or call us direct at 281-280-0100.