In the United States millions of Americans enjoy their 2nd Amendment Right to keep & bear arms and this holds especially true in Texas. Although argued to be unconstitutional, there are numerous state and federal laws in place regulating the sale, ownership, and use of firearms. If an individual violates one of these laws, they may face state and/or federal criminal charges.
Criminal prosecution for firearm related crimes can be complicated. Sometimes, individuals who aren't guilty of firearm offenses are charged, convicted, and severely penalized. It's critical for anyone accused of a firearm offense to contact experienced criminal defense lawyer for legal advice.
[themify_box style="orange"]
It's your right to retain a competent federal lawyer; exercise that right. The Law Offices of Tad Nelson & Associates is a federal criminal defense law firm. Call our Houston, TX law office at 281-280-0100 to schedule a 100% Confidential Consultation about your case.
[/themify_box]
Federal Firearms Offenses: Explanation
Each state has its own firearms laws, some of which are more restrictive than others. Federal laws apply in every state and when an individual is charged with a federal offense, his or her case is handled by a federal court.
The federal firearms statute, 18 US Code 921(a)(3) defines a firearm as the following:
Any weapon (including a starter gun) which will or is designed to or may readily be converted to expel a projectile by the action of an explosive;
The frame or receiver of any such weapon;
Any firearm muffler or firearm silencer; or
Any destructive device, other than antique firearms.
Federal firearms offenses include the following:
The possession of a prohibited firearm, such as a firearm with an obliterated serial number or a machine gun manufactured after May 19, 1986;
Knowingly possessing a firearm in a school zone or in an area that the individual should reasonably have known is a school zone, except for in certain cases discussed in the federal statute;
Possession of a firearm by a prohibited individual. Individuals who are prohibited from possessing firearms include those who have renounced their United States citizenship, felons, individuals who have been convicted of domestic violence, those who have been involuntarily committed to mental health care facilities, and individuals who have been dishonorably discharged from the United States armed forces;
Using a firearm in conjunction with a violent crime or drug trafficking; and
The import, manufacture, transport, or distribution of an explosive without a federal license to do so.
Federal Firearms Offenses: Criminal Penalties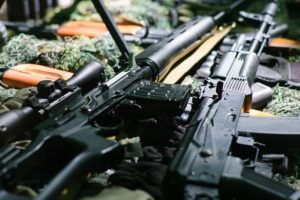 The penalties for a federal firearms offense are severe. They include the following:
A conviction for the possession of a prohibited firearm carries a penalty of at least 15 months in prison, but depending on the type of firearm and the individual's prior criminal record, a defendant facing this type of charge could face up to eight years in prison. The possession of certain types of prohibited firearm have mandatory minimum sentences, such as a mandatory minimum of ten years in prison for the possession of a machine gun manufactured before May 19, 1986.
For most individuals facing a charge of firearm possession by a prohibited individual, the maximum sentence is 10 years in prison and a fine of up to $250,000. However, an individual who is considered to be an armed career criminal, meaning that he or she has had at least three or more serious drug-related or violent crime convictions, can face a more severe sentence.
The penalties an individual faces for using a firearm in drug trafficking or as part of a violent crime depend on how the firearm was actually used. A standard charge of using a firearm in this manner, which means that the firearm was allegedly in the individual's employ, has a penalty of at least five years in prison. Discharging a weapon in conjunction with this type of crime has a minimum jail term of 10 years and if the individual has been convicted of this offense previously, he or she can face 25 years or more in prison.
Federal Firearms Offenses: Defending You in Court
Being charged with a firearm offense doesn't mean you're guilty of a firearm offense. Furthermore, being found guilty of one offense does not mean you should have to face the penalties associated with another.
If you've been charged with a firearm offense at the federal level you'll need an experienced federal defense attorney that can create a strong legal strategy for your case. The right strategy can mean the difference between having your charge lowered or even dismissed and being found guilty of a serious offense and facing substantial penalties.
Contact The Law Offices of Tad Nelson & Associates and former United States prosecutor Amber R. Spurlock today to set up your initial legal consultation with our firm.
Our phone number is 281-280-0100.